PACRIM-13: Conference Tour on November 1
(c)OCVB
Himeyuri Peace Museum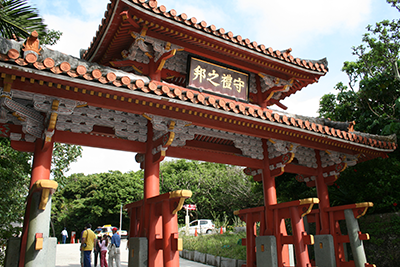 (c)OCVB
Shurijo Castle Park
Itinerary
10:00 Assembly Time

Omoromachi Station

10:10 Dep.

--- Himeyuri Peace Museum ---
--- Lunch--- Shurijo Castle Park ---

14:00 Arr.

Tour will be disbanded at the Omoromachi Station
*Arrival time will be changed due to traffic conditions.
*Places to visit, Maximum attendee of the tour, etc are subject to change with or without notice.
| | |
| --- | --- |
| Date | November 1, 2019 10:00-14:00 (approx. 6 hours) |
| Participants | Condition: Minimum Participants required 30 persons |
| Price | JPY 5,400 / person  *Lunch included |
Application
Participants wishing to reserve optional tours should apply online no later than October 4, 2019.
We will not accept your application in case of fully booked or if the tour is canceled.
Payment
Payments by credit card will be accepted.
The due date for the payment is October 9, 2019. Please note that you cannot make any payment after the due date.

[How to pay by credit card]
The credit cards listed below can be used to make payments.
Your credit card statement will show that the payment has been made to the name of JTB Corp., which is the agent handling registration.
Visa, MasterCard®, JCB, AMEX, Diners Club

1. For VISA, MasterCard®, and JCB cardholders
This system supports 3-D Secure for certain cardholders in order to provide a more secure online payment experience.

What is 3-D Secure?
This system adds an authentication step to the online payment process by requiring the user to enter a previously registered password on an authentication screen provided by the credit card issuer. International credit card brands VISA, MasterCard®, and JCB recommend that merchants make use of this system.

Credit card issuers use different names to refer to their implementation of 3-D Secure, including
Verified by VISA (used by VISA), MasterCard® SecureCode™ (MasterCard®), and J/Secure™ (JCB)
.
*Some issuers allow cardholders to use the same password they have been assigned for accessing their monthly statements online or having them sent by email. If this password is not entered, or if an incorrect password is entered, the online transaction will not be completed.
*If you forget your password or experience other authentication-related issues, please contact your credit card issuer. (For more information, see your credit card issuer's website.)
*In terms of the actual payment process, once you have entered your card information (issuer, card number, expiration date, and cardholder name), click the "Next" button to proceed to the credit card issuer's authentication screen.
[Attention]
*If the authentication screen is not displayed, please confirm card number and expiration date, and take a procedure again. Or close your browser window, log onto the AMARYS registration screen again from the event website (scientific society conference, etc.), and enter another credit card on the payment page. Alternately, you may wish to contact your JTB representative.
*If you cancel the authentication process on this screen, your online transaction will not be completed. (Avoid using your browser's "Back" button.) Also, canceling the authentication process will prevent you from returning to the current application screen, so you'll need to log onto the application top page again and repeat the payment process.
2. For AMERICAN EXPRESS(AMEX) and Diners Club International cardholders
Card number, expiration date and security code will be required for the payment.
*The security code is the last 3 digits of the number printed above the card holder signature area on the back of the card.
*For American Express cards, this is the 4 digits number stamped above the card number on the front of the card.
For more details on the credit card payment, please refer to *About Payment* on My Page.
Cancellation
In the event of cancellation, the following cancellation fees will be deducted before any refund is made.
| | |
| --- | --- |
| 10 – 8 days before the departure day of tours | 20% of tour fare |
| 7 - 2 days before | 30% of tour fare |
| 1 day before | 40% of tour fare |
| Prior to starting time on the departure day | 50% of tour fare |
| After departure or failure to show without notice | 100% of tour fare |
Click here to apply
Inquiry
JTB Corp., Yokohama Branch
PACRIM 13 Desk
Dai 6 Yasuda Bldg. 6F, 3-29-1 Tsuruya-cho, Kanagawa-ku,
Yokohama, Kanagawa 221-0835 Japan
Tel: +81-45-316-4602/Fax: +81-45-316-5701
E-mail: jtb_convention@jtb.com
Office Hours: 9:30-17:30 (weekdays only)