Osaka, Tourism Hub of the Kansai Region
Often referred to as the second city of Japan, Osaka was historically the commercial capital of Japan, and to date the heart of Japan's second largest metropolitan area of Kyoto-Osaka-Kobe.

Also, Osaka has been traditionally known as the "nation's kitchen" or the gourmet food capital of Japan. November is the most colorful time of year in Osaka, when the tall noble gingko trees that line Mido-Suji Avenue, Osaka's main thoroughfare, turn bright yellow, and maple trees in Osaka Castle take on vivid shades of orange and red. The two renowned ancient cities, Kyoto and Nara, which are particularly beautiful in November with the colored leaves, are both within easy traveling distance.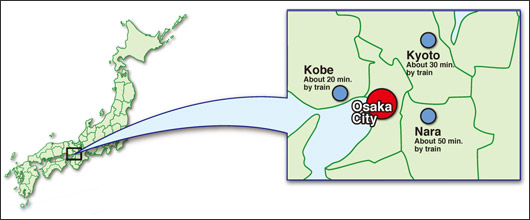 A City Steeped in History
Osaka Castle was constructed during the 16th century by Hideyoshi Toyotomi, who managed to unify the various warring factions within Japan, and during the 17th century, the city became a center for trade and distribution activities and was referred to as the "nation's kitchen".

Underpinning this prosperity were the city's resourceful and enterprising merchants, who introduced the world's first futures trading system.
There are plenty of historic places in Osaka, especially on the Uemachi plateau that runs north to south through the city. Osaka Castle and the remains of Naniwanomiya Palace are located in the north, Shitennoji, which is one of the oldest Buddist temples in Japan, is located in the central area, and Sumiyoshi-taisha Grand Shrine, which is said to have been built in the 3rd century, is located further to the south.
| | | |
| --- | --- | --- |
| | | |
| Osaka Castle | | Shitennoji (one of the oldest Buddist temples) |
The Water Metropolis
Thanks to its convenient location, Osaka has developed as the gateway to Japan, serving as a center for international trade and cultural interaction. The canals and bridges that were built enable to facilitate the movement of goods helped to shape the city and their influence can still be seen to these days.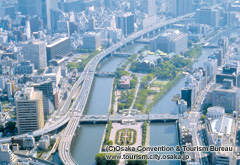 Performing Arts
Osaka boasts a wide range of traditional performing arts, including noh, kyogen, bunraku and kamigata kabuki. A variety of concerts and musicals are always being held in the many halls and venues throughout the city at which people can enjoy artists from throughout Japan and around the world.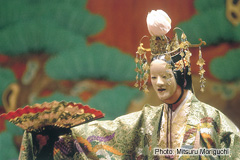 Noh
City of Culinary Delights
Osaka has been traditionally known as the "nation's kitchen" or the gourmet food capital of Japan. The best of produce and seafood can be found in Osaka. Good quality ingredients led to consumers developing discerning tastes, which on turn produced skilled chefs which were able to satisfy their needs.
| | | |
| --- | --- | --- |
| Modern Osaka Style Food | | |
| Okonomiyaki Takoyaki | | Foods, Shopping and Entertainments |
More about Osaka ...
>> OSAKA INFO (Osaka Tourist Guide)